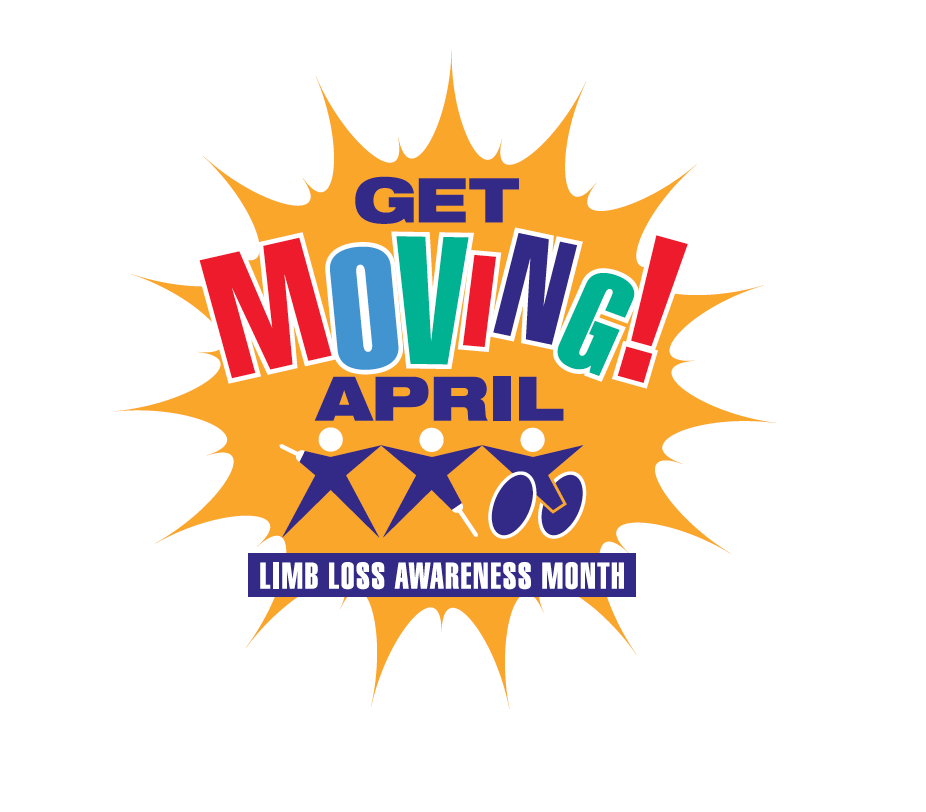 #GetMoving–Celebrating Limb Loss Awareness Month
Posted by LimbPowerAdmin on Saturday 1st April 2017
PRESS RELEASE
1st April 2017
Issued by LimbPower
For Immediate Release
#GetMoving–Celebrating Limb Loss Awareness Month
Join us throughout the month of April to raise awareness of limb loss and limb difference, to support and encourage members of our community as they build their independence through increased mobility. Join our social media campaign called #GetMoving to raise awareness of the physical health benefits and mental health benefits of engaging in physical activity with a focus on moving more at home, in the office and at school.
LimbPower, Limbless Association, Douglas Bader Foundation, BLESMA, Steps and Reach have joined together in making April 2017 the first UK Limb Loss Awareness Month, following on from the great work of the Amputee Coalition of America.
There has been a great deal of enthusiasm within the community and everyone is very keen to support the initiative. With names such as Ability Matters, Dorset Orthopaedics, Limb Solutions, the London Prosthetic Centre, Opcare, Ossur, Ottobock, Pace Rehab, ProActive Prosthetics and the Steeper Group all pledging their support.
"This is not a new idea; the Amputee Coalition of America have been running the campaign for many years. We can all see the potential benefit to our community of raising awareness about being more active. Recently we have seen the charities working much more closely and campaigns such as this have a real chance of raising awareness and supporting our community with useful information and resources to help them build their independence. When we work together we can achieve so much more. It's going to be an exciting month and we look forward to the feedback.", Kiera Roche – CEO LimbPower.
The campaign will be focusing on the difficulty that many of those living with limb differences face in being active. Not everyone is going to be a Paralympian, so for the majority of us it is important to pay attention to everyday activities and keep moving. This isn't about sport, it is general tips for staying on the move at home, at work and for our younger friends, at school. The positive benefits of staying active are well documented and we all know how important it is for a positive and healthy lifestyle, both physically and emotionally.
#Get Moving will be promoted across social media, through newsletters and on websites, with a series of infographics inspiring individuals to move more during their day. Including simple tips to easily incorporate without disrupting everyday life.
To find out more about #Get Moving and Limb Loss Awareness Month or to get involved contact Carly Bauert carly@limbpower.com
END
Notes to editors:
LimbPower supports amputees and individuals with limb impairments in physical activity, sport and the arts.
T: @limbpower
The Limbless Association provide information and support to the limb-loss community. Aiming to support people of all ages and backgrounds through a variety of services.
W: www.limbless-association.org
The Douglas Bader Foundation offers people affected by limb loss an opportunity to connect, make friends, get fit and gain confidence through sport and activity.
W: www.douglasbaderfoundation.com
Reach support families with a child with an upper limb difference, providing resources and practical information.
Steps offer support and information to families with a child with a lower limb difference, providing a helpline and support throughout their journey.
BLESMA is an armed forces charity supporting limbless veterans by providing rehabilitative activities, support and some financial aid.
T: @Blesma