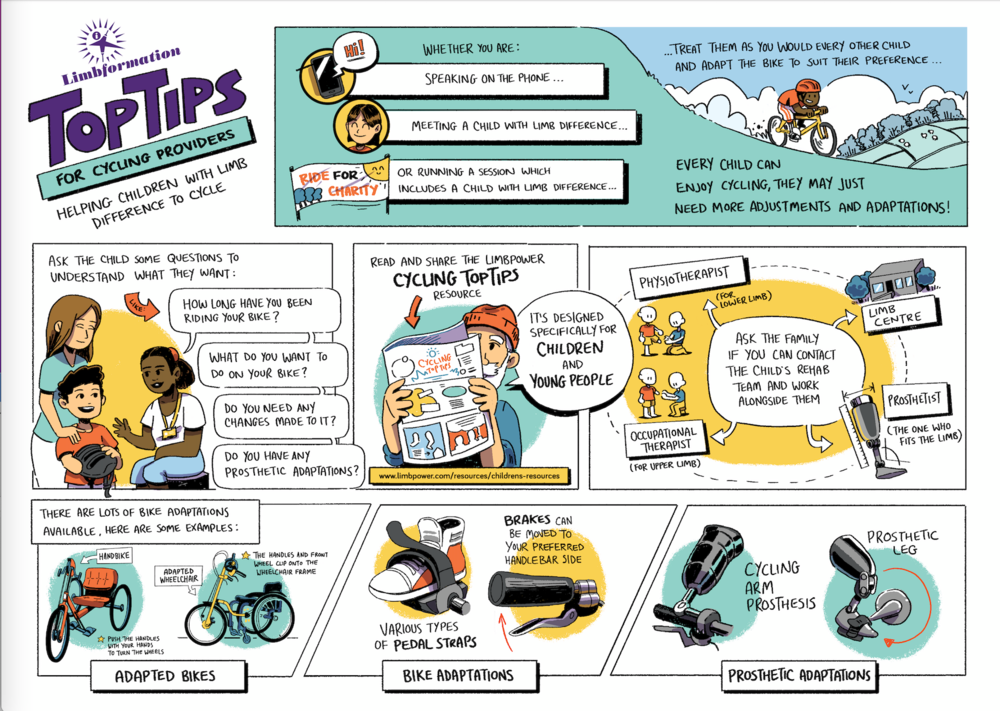 New Top Tips for Cycling- a new infographic for cycling providers
Posted by LimbPowerAdmin on Sunday 28th August 2022
FOR IMMEDIATE RELEASE
24th August 2022
New Top Tips for Cycling- a new infographic for cycling providers.
LimbPower and British Cycling announce a new infographic to support coaches and instructors who work with children and young people with limb difference to engage in cycling.
During the Covid-19 Pandemic, LimbPower and British Cycling worked on a collaborative project, speaking with children, their families, healthcare professionals, coaches and partnership organisations about how best to support children and young people with limb difference to take up cycling.
This resulted in LimbPower adding the Top Tips for Cycling Providers to our suite of infographics to sit with the Cycling Top Tips for Children and Young People. This is a guidance tool to assist coaches and instructors, as well as healthcare professionals and should be used in conjunction with conversations with prosthetists, physiotherapists and cycling coaches. It is important to remember that we are all different and not everything will work for everyone. It is important to seek, help, advice and guidance off the back of this infographic.
Kiera Roche, CEO of LimbPower said, "This is an exciting collaboration between LimbPower and British Cycling. We hope it supports the engagement of children and young people with an amputation or congenital limb difference, who are perhaps reluctant to get into cycling".
This two-page infographic shares advice and information on getting started, bike and prosthetic adaptations, different types of adaptive cycles, where to cycle and who to contact.
These resource is the first in a series of resources LimbPower plan to create to support coaches and instructors when working with children with an amputation and or limb difference. We are privileged that British Cycling saw the merits of our vision and worked with us to create the first two resources in this sport's specific series.
"Cycling is such a regular activity of childhood, so for my limb different son to be able to join in, gave him a sense of freedom, independence and normality, as well as the opportunity to play and have fun with his siblings and their friends". LimbPower Junior Parent.
Notes to Editor:
Top Tips for Cycling Resource. You can download the resource from the LimbPower website here: https://www.limbpower.com/resources/cycling-top-tips-providers
LimbPower - are the National Disability Sports Organisation supporting amputees and individuals with limb impairments in physical activity, sport and the arts.
W: www.limbpower.com
T: @limbpower
F: https://www.facebook.com/LimbPowerCharity
I: @limbpower
Y: https://www.youtube.com/channel/UCWb9_2GijJu5VZm_ZXO0d8Q
British Cycling - British Cycling is the main national governing body for cycle sport in Great Britain. It administers most competitive cycling in Great Britain, the Channel Islands and the Isle of Man
W: https://www.britishcycling.org.uk
T: @BritishCycling
F: https://www.facebook.com/britishcycling