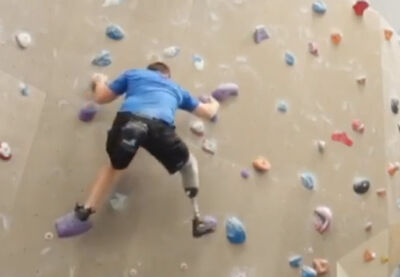 Josh's #LifeBeyondInjury story - A spinal injury and limb loss case
Posted by LimbPowerAdmin on Tuesday 22nd November 2016
A life changing fall

Josh worked at a climbing centre. He was replacing a cable on a piece of equipment, a job he had done many times before, when he fell. He does not remember hitting the ground, but has a vivid memory of the fall itself. As a result of the accident, Josh suffered a spinal cord injury and was initially confined to a wheelchair. He had lost all feeling from the belly button down and medical experts were unsure how much, if any, would return.
Despite this, in a bout of optimism he told his fiancé that on their wedding day, only six months away, he would walk down the aisle.
Next steps

Fortunately, feeling did return to Josh's legs. Six months after the accident, he was true to his word and walked down the aisle at his wedding. "It was very symbolic, very satisfying," he says.
While Josh was learning to walk again during his rehabilitation, it became apparent that his right ankle had suffered serious damage. He therefore made the difficult decision to have a below-knee amputation.
Following the amputation Josh said: "It was after I walked out of Roehampton on the prosthesis that I realised I wanted to climb again."
Compensation

As Josh was injured due to negligence at work, he had to sue his employer. This was not a decision he took lightly. He liked his employer but realised he needed to do what was right for him given the severity of his injury and need for life-long support.
Josh received a multi-million pound compensation settlement. The interim payments he received paid for the best prosthetics available. Josh says: "Because I wasn't worried about cash, I was able to make me the focus for as long as it took. Without the settlement, there would be a definite concern about how well I am going to provide for my family."
Josh's life after injury

"When I'm standing in front of the wall, there's almost a sense of freedom."
Josh has returned to climbing and aims to compete in three climbing events in 2016. He is hoping one day to make the GB paraclimbing team.
---
We have teamed up with three other clients who have suffered catastrophic injuries to also tell their stories. Please visit the Life Beyond Injury webpage to see their films.
We hope that by sharing these stories, newly injured people can see that with the right support they too can overcome adversity to lead full and active lives.
Please feel free to share our films. You can join in the conversation and share your stories of overcoming adversity to lead a fulfilling life beyond injury:
On Twitter, using the hashtag #lifebeyondinjury.
Or on Facebook, using the same #lifebeyondinjury hashtag.
---

Our specialist injury lawyers deal with a range of catastrophic injury claims. These include brain and spinal cord injuries as well as the loss of limbs resulting in the need for specialist prosthetics.
Our lawyers only handle a small number of cases at any one time. They work closely with their clients in order to understand the complex issues involved and the impact of the injuries suffered.
If you, like Josh, have suffered a catastrophic injury and need assistance or advice please call our specialist team on 020 7822 8000 or by email on pi@stewartslaw.com.