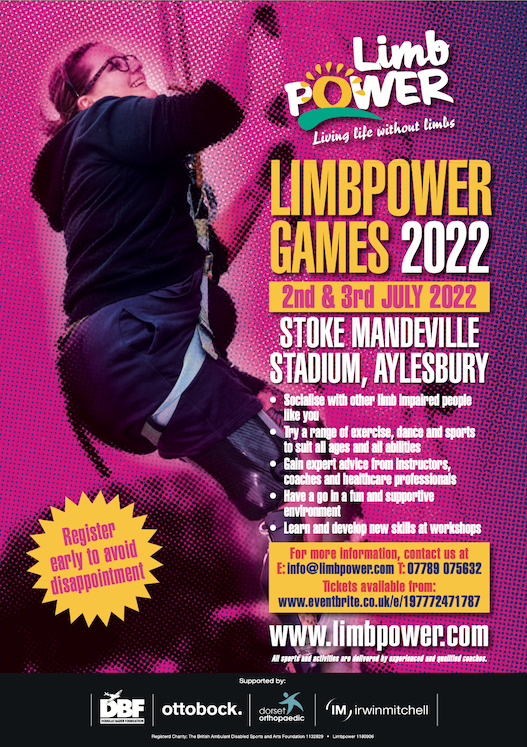 The 2022 LimbPower Games takes place this weekend at Stoke Mandeville Stadium
Posted by LimbPowerAdmin on Wednesday 29th June 2022
Stoke Mandeville Stadium will host the 12th annual LimbPower Games on Saturday 2nd and Sunday 3rd. This event is the highlight of the year for many amputees and individuals with limb differences looking to discover and progress in exercise, physical activity and sport. It is also an opportunity to meet like-minded people and share information, ideas, stories, resources and hints and tips.
The LimbPower Games and Exercise event is often the time that many of the participants have really had the opportunity to see and try for themselves the many sports that are available to them. Over the years the LimbPower Games have helped hundreds of amputees and individuals with limb impairments to gain confidence, improve mobility and find a great new activity. The Games have even been responsible for starting some on the road to the Paralympics! 83% of past participants to our events have said that they have gone on to take up a sport.
Among the sports, on offer this year are Athletics, cycling and hand-cycling, archery, canoeing, badminton, swimming, shooting, wheelchair basketball, rugby, sitting volleyball and football. This year the event will also host a dance and fitness programme including; Wobble (functional exercises), Strength Session (Upper Body and Core), Yoga, Cardio (including HIT), Components of Fitness, ReVAMP, Walking for Fitness, Belly Dance, Street dance, Musical Theatre, Contemporary and Flamenco
Thanks to the generous support of the Douglas Bader Foundation, Irwin Mitchell Solicitors, Ottobock, Dorset Orthopedics, Limb Artand LimbPower's fundraising efforts throughout the year, the LimbPower Games is available to participants for a modest registration fee only. The event costs £350 per participant to run and LimbPower only charges a small registration fee of £15 a day, with a free place for carers.
Kiera Roche, LimbPower's Founder and Chief Executive said:
"This is what the charity is all about, introducing amputees and individuals with limb impairments to the people and organisations who offer an amazing range of sports exercises and activities that can really make a difference in their lives. Whether it's just for fun, or with a view to competition, the LimbPower Games enables everyone to set and meet their own challenges, and forge friendships that will last a lifetime."
Anyone who is interested in finding out more should contact Kiera at Kiera@limbpower.com.
Ends
Notes to Editors:
LimbPower – The British Ambulant Disabled Sports and Arts Foundation was founded in 2009 with the aim of offering relief to the physically disabled by aiding rehabilitation and improving the quality of life through the medium of sports and arts. Registered charity no: 1132829
In addition to the LimbPower Games, LimbPower also runs the Junior Games and Primary Games introduced in 2012 to allow young amputees aged 6-18 years to try different sports. The 2022 Junior Amputee Games will be held on the 16th of July.