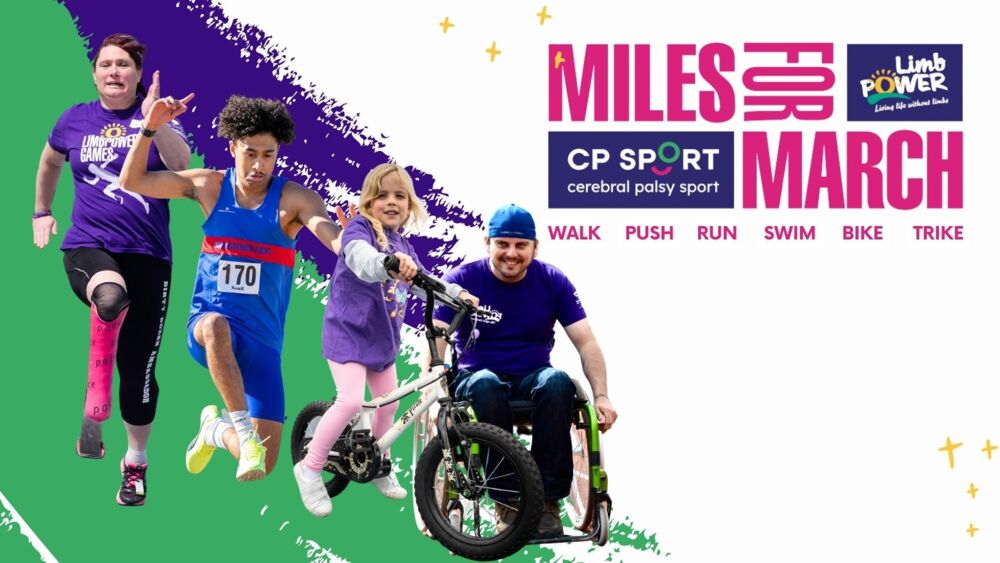 Take on 31 Miles This March for LimbPower
Posted by LimbPowerAdmin on Monday 27th February 2023
LimbPower is inviting community members, friends, and supporters to take on the '31 Miles This March' challenge for FREE and to raise funds for LimbPower.
What is miles for March
This is an at-home fitness event that you can take part in locally to get fit in time for the summer or just to improve your physical and mental health. You can swim, run, push, or walk a mile or day or you can take part at any time in March – whichever way suits you. Did you know that one way to improve your self-esteem is to take on a challenge? Be prepared to take on something that is difficult to achieve. By succeeding you show yourself that you can achieve, so maybe challenge yourself to do more miles.
Why sport and activities are important for people with an amputation or limb difference
Around 65,000 people are currently living with an amputation and around 1 million people are living with limb difference. Being an amputee or having a limb difference affects mobility, activities of daily living and the ability to engage in exercise and sport, as well as the social and mental health impact of living with a physical disability. No two individuals are affected in the same way.
Being physically active and taking part in exercise and sports can be life-enhancing. It provides mental, social, and physical benefits which can include increased mobility, confidence, motivation, and friendships. Being part of a charity community and fun activity might be the only time young people with limb difference regularly meet up with each other which can be empowering for the individual and provide an opportunity for families to network.
Barriers to taking part
Unfortunately, barriers to activity for many disabled people still exist. Sport England's Active Lives Survey shows that disabled people are almost twice as likely to be physically inactive compared with those without a disability. Research from the Activity Alliance confirms that disabled people's lives have been the hardest hit by COVID-19 leaving many physically disabled people feeling isolated, anxious and lacking the support needed to stay active.
As restrictions ease, LimbPower is working hard to break down these ongoing barriers so that people with an amputation or limb difference are not left behind and can access opportunities that they enjoy and can take part in physical activity locally and regularly, making healthy habits for life.
How you can make a difference
LimbPower can grow our reach and support more people with limb difference thanks to individual fundraising. We can run events, and activities and create useful resources to support community members.
Join the 31 Miles This March group today!
For those who are on Facebook simply join the Facebook page (insert link) and follow the steps to start fundraising as well as enjoy some social interaction and sharing of progress. Alternatively, participants can set up a JustGiving Page (https://www.justgiving.com/limbpower) or simply donate to LimbPower. Everyone who raises £25 or more will receive a free t-shirt.
Register online here https://www.eventbrite.co.uk/e/526855277317