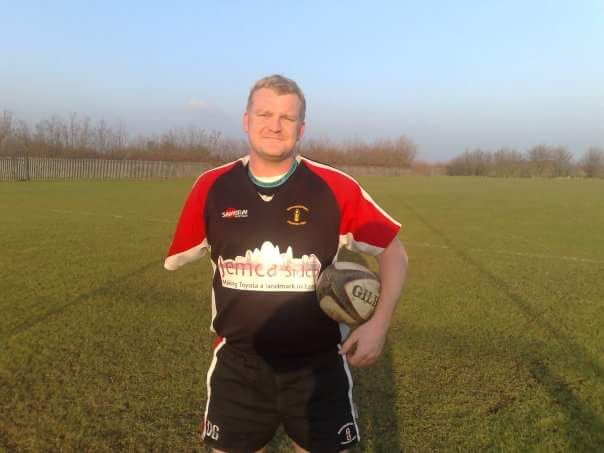 ​Three times Ironman competitor Danny Green selected as Together We Will ambassador
Posted by LimbPowerAdmin on Tuesday 27th September 2016
Three times Ironman competitor Danny Green selected as Together We Will ambassador
Danny's Story
Danny Green, from Grays, Essex, has been selected as an ambassador for nationwide campaign, Together We Will. The campaign aims to motivate disabled people, along with their friends and family to become more active and promote positive physical and mental well-being.
Keeping active has always been a priority for Danny, who has had a passion for team work and comradery from a young age. He joined HM Forces at the age of 20, working as an engineer, where he threw himself into any kind of physical activity for the role.
In 2000, Danny moved back to Essex, to settle down with his then fiancé. He found work as a dry layer at a local builder's merchant, joined a gym and started playing for his local rugby club.
In December 2000, after a night out with friends, Danny aged 25, lost his right arm above the elbow in an accident.
Danny left hospital on Christmas Day, feeling as though life would not be the same. Looking back, Danny said:
"I was young, I'd just left the army and I was engaged. It felt like everything was going my way and it all just came crashing down in one night. It felt like everything was over."
After his accident, Danny was overwhelmed with support from his family and friends. His mum reached out to his old contacts at the Forces, who supported him to join a rehabilitation programme. When speaking about his rehab, Danny said:
"The Forces couldn't have helped me more – they were amazing. I was feeling really low after my accident and my confidence was rock bottom.
"As well as physical rehabilitation, I was offered counselling which proved invaluable to me, it helped me start to build my confidence back up and piece my life back together."
The rehabilitation programme helped Danny with his physical and mental recovery, and supported him to find employment and put him in touch with potential employers. After a three month recovery period, Danny was back on his feet and in employment.
Having seen the improvement in her son, Danny's mum didn't want his recovery to slow down. She got in touch with fellow Essex resident and former Paralympian, Danny Crates, who represented ParalympicsGB team at Sydney Paralympics Games in 2000.
Crates visited Danny at home in Essex. Danny he found great comfort in meeting someone with a similar impairment. He was able to relate to his situation, which inspired Danny to get up and get active. Looking back at this time, Danny said:
"After all of my rehabilitation, the thing that helped me most was Danny Crates. Speaking with somebody who had been through the exact same thing as me, who had achieved so much, completely changed my outlook on life.
"He took me to the gym and re-taught me to train. It was extremely difficult at first, my loss of balance was quite extraordinary, but Danny coached me and made me believe that I could do it."
Danny used this inspiration to start being more active and took up kick-boxing at a local club in 2003. Speaking about joining the club, Danny said:
"I'm happiest when I have a strong bond with a team; it felt incredible to be part of something again. Everyone was so friendly and welcoming."
After a few sessions building up his fitness and skills, Danny's coach wanted him to take the next step and take part in a competitive match. So his coach set up an 'Exhibition Match' to allow Danny to demonstrate his skills. He enjoyed the opportunity immensely and his confidence skyrocketed.
With this big confidence boost, Danny decided to return to his old rugby club. Danny said:
"It was early 2005 when I knew that I was ready to get back into rugby. I started going down to my old training sessions and reconnected with my old team mates. The team were really apprehensive about my inclusion, but once I started training with them all apprehension went out the window."
Feeling like himself again, Danny then went on take up his old spot on the team and won 'Player of the Year' later that year. When speaking about his return to rugby, Danny said:
"To this day, with the exception of my two daughters, returning back to my old rugby team is my greatest achievement. It was the first milestone that I achieved after my accident and a strong reminder of the 'Danny I used to be'.
"Rugby was the one thing I loved and the one thing I thought I wouldn't be able to do again. But I was wrong. I've learnt never to let my disability hold me back again – physically or mentally."
Familiar with his drive and determination, in 2008 Danny's rugby coach suggested he took part in the upcoming London Triathlon. He gladly accepted the challenge and raised money for Help for Heroes charity while taking part.
Not wanting to stop here, Danny began training for more triathlons and went on to represent Team GB in the World Para-Tri Championships in London in 2010 and again in Nottingham in 2011.
Since hanging up his GB jersey, Danny has continued to enjoy the multi-sport event and joined a local triathlon club, RG Active in Hertfordshire. Where he trains twice a week. In 2013 Danny completed his first Ironman triathlon event in Frankfurt, Germany alongside half of his RG Active team mates. Danny said:
"Ironman was my biggest challenge yet. Racing and training together meant that we could feel it together and enjoy it as a unit – it brought us stronger together as a club and made it so much more enjoyable."
After taking a year out, in 2015 Danny went on to take part in not one, but two Ironman events. Danny is a great advocate for those who lead an active lifestyle. Being active and taking part in sport has provided him with the support he needed since his accident. Danny said:
"Sport and activity is huge to me. It turned my life around and made me believe in myself again. It is incredibly social and builds up your confidence – it helps you get over those bumps in the road and acts as a light relief on tough days.
"The best piece of advice I can give is to never let yourself be afraid of failure and never be afraid to ask for help. I was completely paranoid before I joined RG Active, quickly learning on my first day that people do just want to help.
"To anyone in a similar position to me, looking to get into sport, I urge people to get in touch with LimbPower. Like my experience with Danny Crates, LimbPower offers advice and guidance from a first-hand perspective – which will change people's lives."
Throughout the Together We Will campaign, there will be many more ambassador stories. Together, Danny and his family and friends are active.
To find out more about LimbPower and activities opportunities for amputees and individuals with limb impairments people please visit www.limbpower.com.
For more information about Together We Will and support on how to become more active, visit www.efds.co.uk/together.
ENDS
Editors' Notes
For more information, please contact Kim Bull, Abby East or Emily Learmonth on 0161 817 6600 or email Kimberley.Bull@tangerinecomms.com; Abby.East@tangerinecomms.com; Emily.Learmonth@tangerinecomms.com or EFDS@tangerinecomms.com
National Disability Sports Organisations (NDSOs)
There are eight National Disability Sports Organisations (NDSOs) recognised by English Federation of Disability Sport (EFDS), who provide opportunities for people with specific impairments to take part in sport and physical activity, as well as offer advice and support. The NDSOs work together with EFDS and Sport England to support disabled people to be more active.
The eight NDSOs are British Blind Sport, Cerebral Palsy Sport, Dwarf Sports Association UK, LimbPower, Mencap, Special Olympics Great Britain, UK Deaf Sport and WheelPower.
In October 2014, Sport England allocated new funding totalling £2.1 million, which will be used to help increase the number of disabled people playing sport. The funding will be allocated to the eight NDSOs over a three year period from October 2014 and 2017 and aid them in their work as they advise, support and guide other organisations sports bodies to create opportunities for disabled people to take part in sport.
LimbPower
LimbPower supports amputees and people with limb impairments to find the right sport or leisure activity for their needs and ability. For more information visit www.limbpower.com. Email: andy@limbpower.com.
English Federation of Disability Sport (EFDS)
The English Federation of Disability Sport (EFDS) exists to make active lives possible. To do this we enable organisations to support disabled individuals to be and stay active. Established in September 1998, EFDS has a vision that disabled people are active for life. www.efds.co.uk. Email: federation@efds.co.uk.