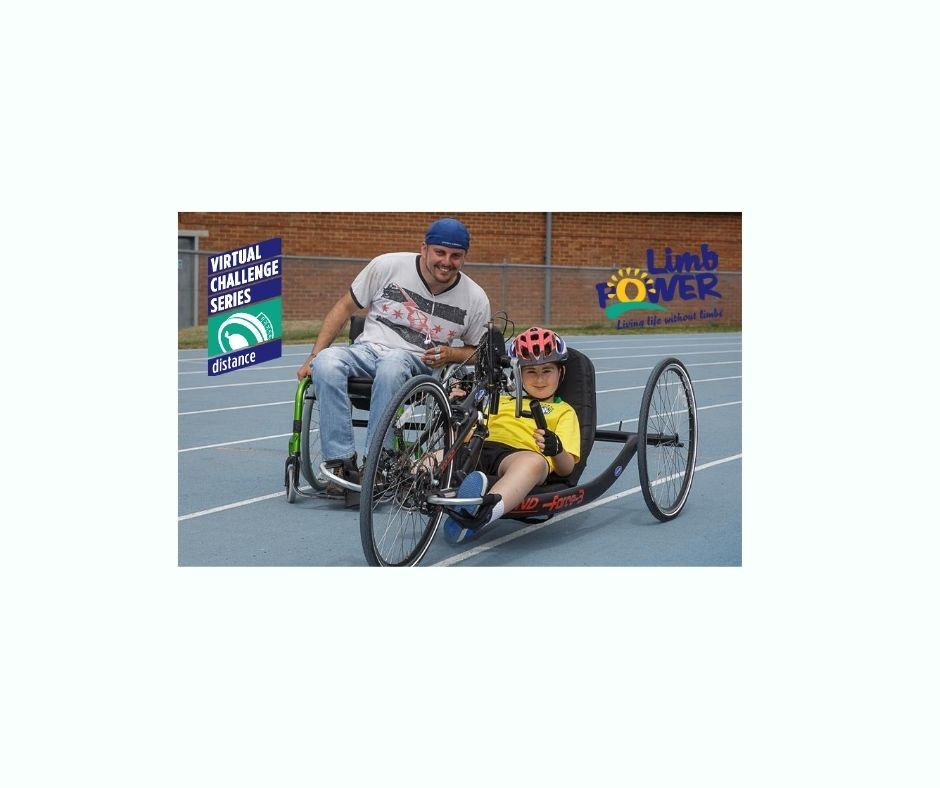 Press Release - Physical impairment NDSOs launch the Virtual Challenge Series to encourage community members to keep moving
Posted by LimbPowerAdmin on Saturday 25th July 2020
Physical impairment NDSOs launch the Virtual Challenge Series to encourage community members to keep moving
The COVID-19 pandemic has had a disproportionate impact on persons with a physical disability, with 22% shielding and 18% self-isolating. Our community are worried about the impact of social easing with many choosing to continue to shield and self-isolate. We plan to support these community members to stay active at home.
CP Sport approached LimbPower about developing a series of challenges to support the community to keep engaging in activity at home over the coming months and the Virtual Challenge Series was born. According to research conducted by LimbPower the second most important activity the charity did to keep community members engaged in activity during Lockdown was the 2.6 challenge back in April, followed by a successful At Home Superhero event from June to July.
The Virtual Challenge series are three consecutive participation events with a different theme for each event.
Challenge one is distance and runs from the 15th August to 15th September
Challenge two is time and runs from the 15th October to 15th November
Challenge three is numbers and runs from 15th December to 15th January
Participants choose their own targets and goals to suit their ability, mobility, circumstances and lifestyle. They then have a month to achieve their target. For the first challenge participants receive a bronze medal on completion. For two challenges they receive a silver medal and for taking part in all three challenges they receive a gold medal and a challenge t-shirt
"We are very excited to be working with LimbPower on the virtual challenge series and providing opportunities for the cp community to stay active throughout the summer and into next year. It is important to us to keep the community connected and, through the workshops for each challenge, we hope to provide opportunities for socialising, as well as professional support from our coaches. We look forward to seeing everyone in action throughout the summer whether they are new to sport or an aspiring Paralympian, getting out there and getting active." Adi Fawcett, Chief Operating Officer, Cerebral Palsy Sport
We have kept the entry fee low to enable more community members to take part and enjoy the challenge, online community and online workshops, exclusive to challenge participants. The registration fee for one challenge is £12.50 and £25 for all three challenges. Participants can book online via Eventbrite for LimbPower and Go Membership for CP Sport.
Physical activity is vital for people with a physical impairment as it improves mobility, supports mental health and reduces the risks of developing other long term conditions. Being part of a community also has a positive impact on mental health and this is especially important for individuals who are self-isolating and shielding.
"Many of our community members are shielding and self-isolating, while everyone else is returning to play the opportunities for these community members to engage in activity is more limited. The Virtual Challenge Series was created for persons with a disability to engage in activity at a level to suit their ability, mobility and personal circumstance. We understand the value of support from family and finds so these challenges are inclusive and open to anyone who wants to join in. Feeling included and part of the community has a really positive impact on mental health, which is much needed during this pandemic." Kiera Roche, Chief Executive Officer, LimbPower
To learn more about the virtual challenge series visit our dedicated virtual challenge series community Facebook group or contact CP Sport and LimbPower directly.
Ends
To find out more about #VirtualChallengeSeries or to get involved contact contact Carly Bauert at carly@limbpower.com or Telephone 07789 075709 or Jen Basford at jennifer.basford@cpsport.org or Mob 07955 119 018 or Rich Kerr at richard.kerr@cpsport.org or Mob 07762 739926
- END -
Notes to editors:
CP Sport are a National Disability Sports Organisation supporting people with cerebral palsy and other physical disabilities to reach their potential through sport and being physically active W: www.cpsport.org
E: info@cpsport.org
LimbPower are a National Disability Sports Organisation supporting amputees and individuals with limb impairments in physical activity, sport and the arts. W: www.limbpower.com
T: @limbpower